Our Stand-Alone Compliance Solutions
Staying compliant with the laws that apply to an industry ensures that a company's reputation remains intact. While essential for all companies, credit unions operate differently from other financial institutions and often need to follow more specific rules and regulations.
With so many rules and regulations to comply with, there will be times where you need to hire additional staff trained for and skilled at dealing with complex compliance requirements. This is where stand-alone compliance, or "a la carte," services come in.
Stand-Alone compliance services involve hiring an outsourced compliance expert to execute a particular compliance related project without the hassle of finding, training and retaining an in-house employee. Comply-YES! provides the opportunity to have your compliance needs fulfilled. Here's how.
Speak With A Compliance Expert Today!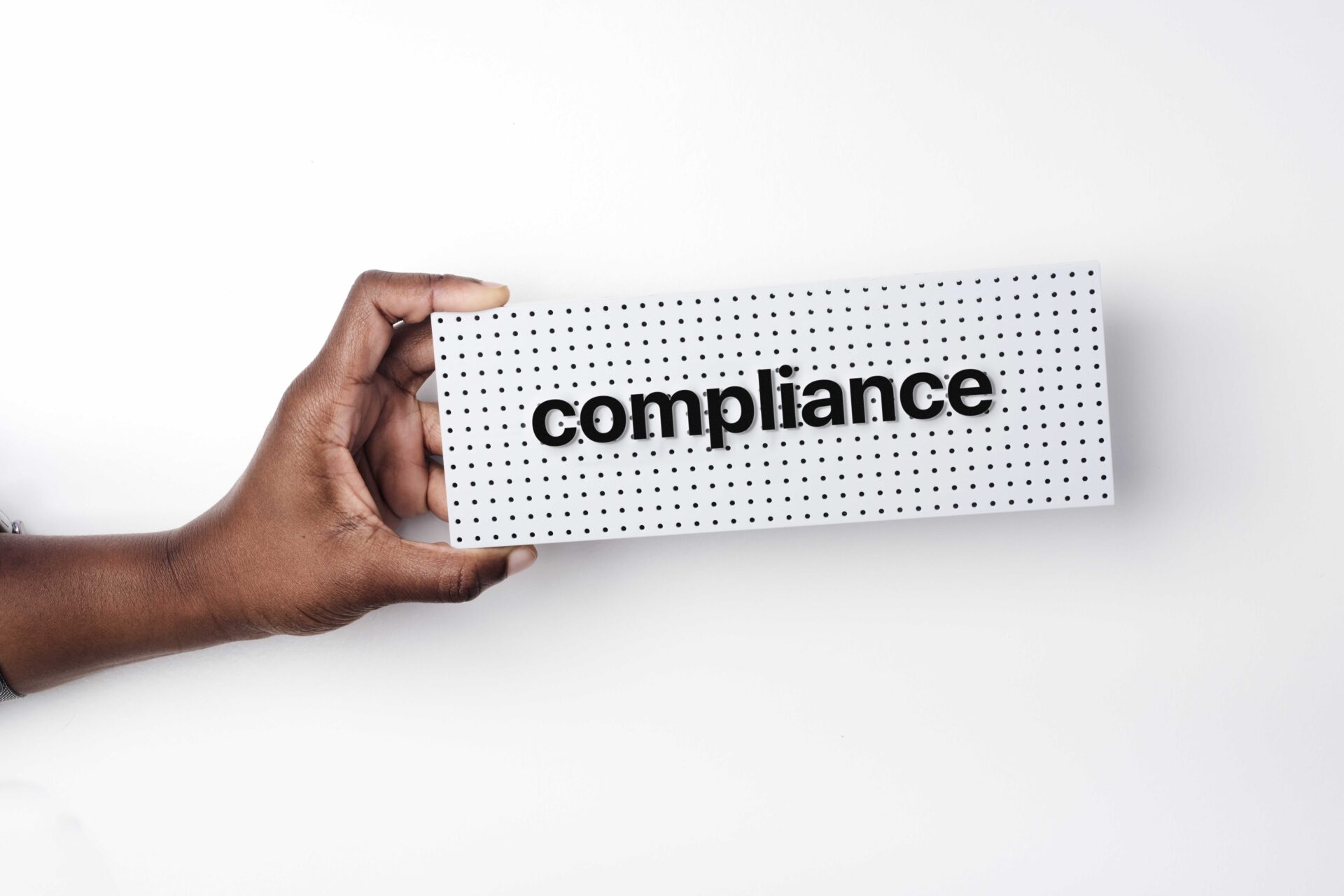 A La Carte Compliance Services We Offer
If you're looking for a qualified organization that specializes in compliance to handle your larger compliance projects such as policy and procedure review, risk assessment, training and/or development of a compliance management system; Comply-YES! has the resources and professionals you need to create a customized plans for these one-time projects. Here are some of the stand-alone services we've provided to our allies in the past — plus more. If you think it, we can do it!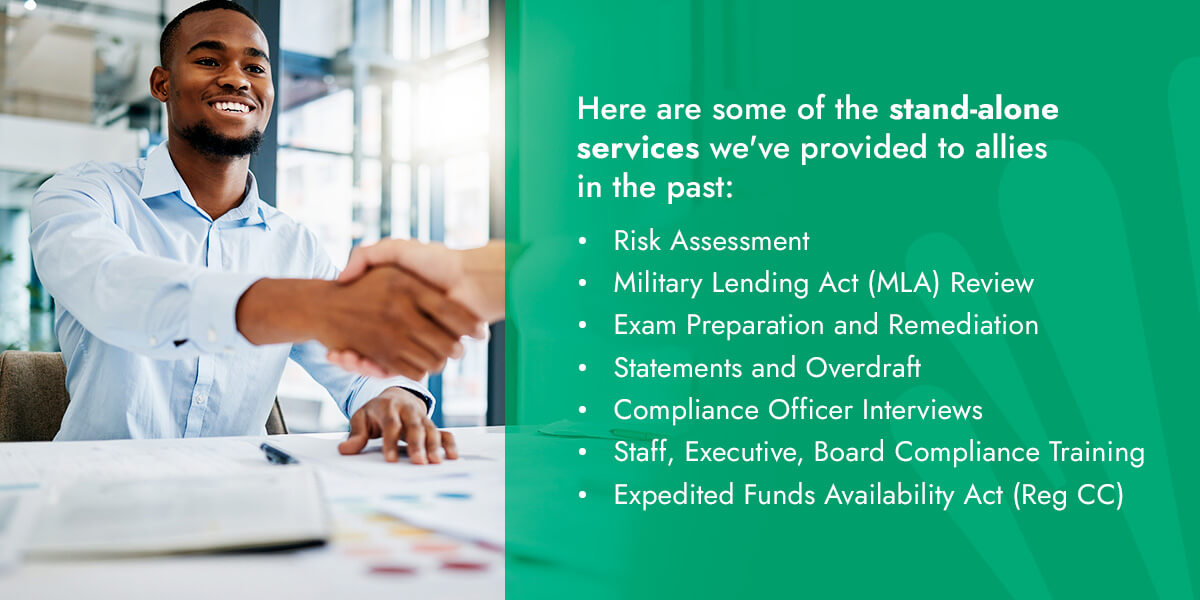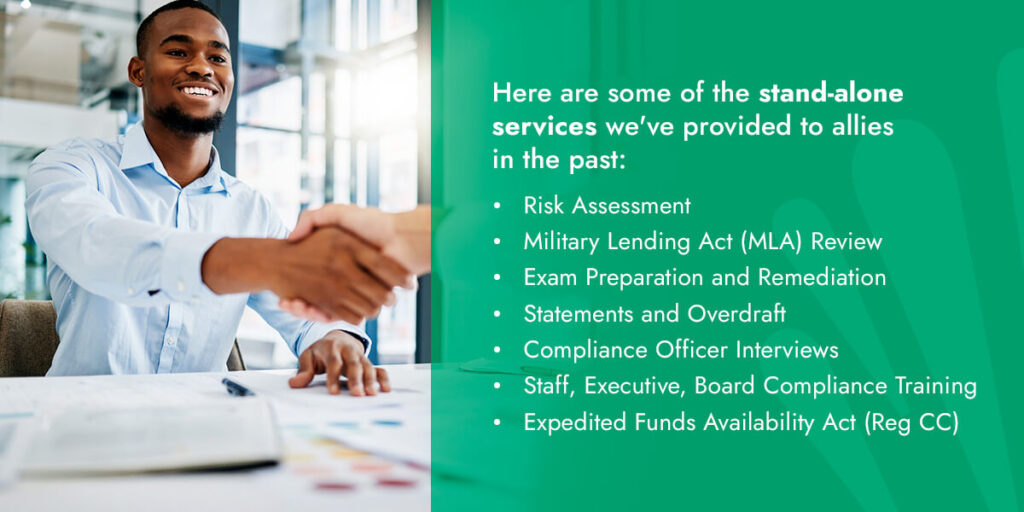 Content Management System (CMS) Review, Development and Testing

Policies and Procedures Review and Development

Marketing Materials Review

Staff, Executive, Board Compliance Training

Forms and Disclosure Management

Exam Preparation and Remediation

Marijuana Banking Program Review and Development

Telephone Consumer Protection Act (TCPA) and CAN-SPAM

Military Lending Act (MLA) Review

Compliance Officer Interviews

Deposit Operations – Reg E, TISA, E-SIGN, Remote Deposit Capture and Reg CC
Benefits of Outsourcing Any Compliance Service Need
There are many ways in which outsourcing compliance services can aide your credit union. For one, outsourcing can help mitigate potential legal fees, fines and adverse action. Plus, credit unions can lower their overall risk when operations are more efficient. Here are a few factors that will benefit your organization when becoming a Comply-YES! ally.
Save money: Outsourcing work to an industry expert can help you save cost on finding, hiring and training qualified staff. Utilizing experienced compliance professionals can also help to reduce exposure to potential litigation.
Quick access to experts: Working with a team that has decades of compliance knowledge and collective resources can provide your team with answers and recommendations to resolve issues quickly.
Yes based solutions: While an internal compliance specialist may have a limited list of services they can offer, outsourced services like Comply-YES! are versatile and offer a wide selection of compliance services to meet the needs of their allies and partners.
Contact Comply-YES! for ALL of your Compliance Service Needs
Is your credit union in need of compliance services? We recommend working with a Credit Union Service Organization (CUSO) like Comply-YES! Comply-YES is a one-stop shop with the aim of helping credit unions receive the compliance support they need. With various auditing and review compliance services and knowledgeable experts, we're confident we can help fulfill your compliance needs, allowing you to focus on your core tasks.
Our all-inclusive compliance officer professionals understand your industry's nature, purpose and operations, allowing them to eliminate obstacles and roadblocks and make compliance easy for your credit union. We invite you to become an ally and connect with our experts today for reliable compliance service that you can trust!